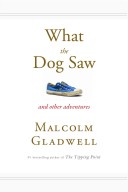 Yes, most of these stories are a great read (only one I did not find that interesting, about hairpaint; somehow I did not connect to the subject). I guess I like The Art of Failure best. Failure is a very under communicated subject, I think.
"Kreeping determinism" by Fischoff reminds me of the Black Swann by Taleb, who is also featured in the book. Since Gladwell also refers to Lawrance Lessig' book on Free Culture, in Something Borrowed, I better put that book on my 'to read' list as well.
BTW check for a digital version at http://www.gladwell.com/archive.html (I have a Dutch version of the book, for anyone who prefers paper). A great read, on a sandy beach… still found some sand when I just opened the book.