Een GIS gids voor open geodata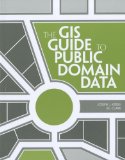 The GIS Guide to Public Domain Data is een publicatie van Esri Press, waarin auteurs Joe Kerski en Jill Clark op allerlei aspecten van open geodata in het publieke domein ingaan. Joe Kerski heb ik een aantal keer ontmoet, hij is een -extreem energieke- collega uit het wereldwijde Esri academische programma. In de meeste recente In Perspectief heb ik een korte bespreking geplaatst, waar helaas een klein foutje ingeslopen is. Wie het vindt, mag het zeggen!
Overigens had ik het boek al mogen lezen voordat het is uitgekomen, een bijzondere ervaring. Recent is me dat ook 'overkomen' bij een boek van Guy Kawasaki, APE. De –positieve- review plaats ik zeker nog op Anobii en Goodreader.
Het boek is weliswaar uitgegeven door Esri, maar persoonlijk kan voor aanschaf Amazon aanraden (goede aanbiedingen!) Op kantoor hebben we er altijd wel een exemplaar te leen…zeker voor de deelnemers van de Open Geodata workshop!