APE, or How to publish a book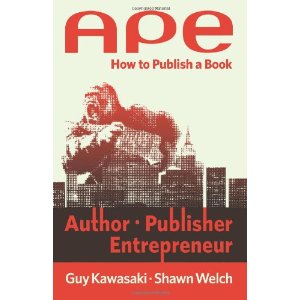 Not sure anymore how I came across this book –before it was published- but I did preview (pre-read) How to publish a book by Guy Kawasaki. For some reason, I never forwarded my comments back in time, so in the age of the thank-you economy, this is payback time. Just in case you don't know him: Guy is an author and former evangelist at Apple. I first heard about Guy when he published "Engagement Enchantment", but oddly enough never read the book (put it on my Anobii wishlist for now).
APE (which stands for Author, Publisher, Entrepreneur, the three roles a self-publisher must fill) covers the main parts of this book on how to be an Author, Publisher and Entrepreneur. It is a book for the author publisher entrepreneur in all of us. Kawasaki addresses straight forward topics like:  How to write your book (…), How to build an enchanting personal brand, How to guerrilla market your book, but also some –very- practical topics like How to Convert Your File, How to Upload Your Book. And it includes tips like: Don't stick your face exactly in the middle of the photo (on what kind of picture you should have on social media), Share when your audience is awake (on when to share your post). As much as I appreciated these topics, I just scanned through the more practical ones.
Read this as well if you want to understand Why todays publishing gatekeepers are yesterdays pirates, What the three pillars of a personal brand are (TLC) and if you want to understand why people trust bakers and not eaters (I am a baker).
APE seems to be a complete –all you need to know if you want to publish a book- book and you need to look no further if you have plans. A few nice quotes: an author who doesn't buy books is a hypocrite; Steve Jobs taught me that little details separate the mediocre from the excellent; Self-publishing isn't easy, but it is fun, and your book could change the world.
I do have a few doubts about the book, like whether email is still the granddaddy of marketing tools and why LinkedIn is not helpful for establishing a reputation (not to mention the Google+ part). But I guess I should have forwarded those in time. All-in-all: for all writers to be, wholeheartedly recommended.
With a mix of excuses I am procrastinating authoring a book. In my defense, I am collecting book titles for books to be: Snow in his collar (about a man who suddenly finds snow in his collar, which appears to be against the law), Escaped from Oblitus (about a blogger who suddenly becomes famous, against his own will ), Enduring a sense of happiness (when being happy makes you unhappy). By the time I will write a book, APE may just need to be rewritten.