Just a few recommendations for FOSS4G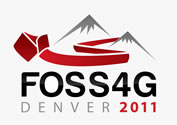 Next week I will be heading over to FOSS4G in Denver, organized by OSGeo. Really looking forward to that, as a few topics of interest are on the agenda. The programme is rather big and comes across fairly techie (I am proud of my cartographic, engineering background…)
Esri has quite a presence at this event (with a booth, several presentations and a platinum sponsorship and presentation by David).
So why is Esri supporting FOSS4G? Where technology & geography connect, Esri is always eager to support communities of users and developers (this message was officially brought to you by…). Anyway, Esri has been at all previous OSGeo events, as far I recall. Esri is very much into leveraging and supporting other technologies, in an open innovation framework. 52north does play an important role in that framework, where joint research on important new topics are coordinated.
My personal interest is more related to open innovation systems and how we can enable them, or better, connect with them, support them. Many Esri users are working with mixed IT technologies and we like to help them to make "best" choices. Also, I would like to scout (and find) new technologies for us to work with.
So my top five personal recommendations (apart from the keynotes, all very manly btw):
1.      Open data / OpenStreetMap
GIS has always been very much about data and OpenStreetMap and Open Data might be game changers.  On my list: Martijn's  presentation on Mayor of Main Street – How Badges Will Make OpenStreetMap Data Better (might make would be better).
2.      Web-based geoprocessing
Think that WPS is a great contribution to mixed ecosystems of technologies. Put Bastian's presentation on my list, perhaps the shootout as well).
3.      Business models/ commercialization
Not always affiliated with free source and/or open source, but just a fact of life to me. I was triggered by this presentation by Luc. My take: if "IT" was all about technology, we would only need great engineering schools….
4.      Improving FOSS Imagery Solutions
Found a presentation by Kristofor on that topic. I see imagery become more and more important, even in smaller countries (…).  I will be interesting to understand how they made the choices they did.
5.      Academic
There is a whole academic track as well. I like bridging science into "the real world", picked this presentation by Jeffery on An innovative web services based GIS architecture for global biogeographic analyses of species distributions. –he had me with "innovate". Also, I would like to visit that museum one day…
GIS thrives on openness. I look forward to a great week, new connections and I hope for a "better" (social) media coverage then at FOSS4G Barcelona. It was hardly possible to get an impression of what was going on there. So here is my first two cents to that "better" coverage!